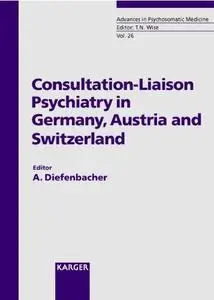 Consultation-liaison Psychiatry In , Austria And Switzerland (Advances in Psychosomatic Medicine) By Albert Diefenbacher
2004 | 208 Pages | ISBN: 3805577494 | PDF | 2 MB
Somatically ill patients often also suffer from psychological symptoms. The diagnosis and treatment of these symptoms and their underlying psychiatric disorders are the task of consultation-liaison psychiatry. In this publication, the latest developments, such as psychiatric comorbidity in general hospital inpatients as well as mental disorders in the outpatient setting, and special disorders like depression, alcohol abuse, and delirium, are discussed. One chapter on suicide attempts delineates the results and experiences from the 'German Competency Network on Depression'. The important topic of somatoform disorders in outpatient and inpatient settings is also reviewed. Non-German readers are usually are not aware that, in , there are two distinct board-certified physician specialties dealing with patients with psychiatric illnesses, usually referred to as 'psychiatrists' and 'psychosomaticists'.