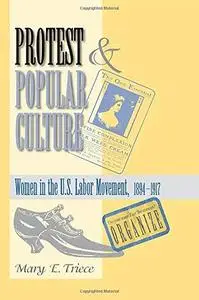 Protest and Popular Culture: Women in the American Labor Movement By Mary Triece
2000 | 320 Pages | ISBN: 0813368197 | PDF | 54 MB
Protest and Popular Culture is at once a historical monograph and a critique of postmodernist approaches to the study of mass media, consumerism, and popular political movements. In it, Triece compares the self-representations of several late nineteenth and twentieth-century women's protest movements with representations of women offered by contemporaneous mass media outlets. She shows that from the late nineteenth century until the present day, U.S. women's protest movements sought to convince women that they are first and foremost laborer/producers, while the U.S. media has just as consistently sought to convince women that they are primarily consumers. Triece contends that these approaches to portraying women have been and continue to be constructed in opposition to one another. The leaders of women's protest movements, she argues, have long sought to convince women not to spend time and money on reshaping their selves through consumer purchases, but instead to focus attention on empowering themselves politically by asserting control over their own labor power. The mass media, meanwhile, has always treated such movements as potential threats to the financial well-being of the consumer sector (that is, of advertisers), and so has consistently trivialized them, while seeking simultaneously to convince women that they should devote attention and resources to buying things, not to struggling to overcome class and gender discrimination. Many cultural-studies scholars have argued that in recent years, rising prosperity has made consumerism into the primary site of both individual expression and "resistance" to the dominant socio-economic order, with self-definition through personal purchases supplanting the role formerly played by struggle for an end to inequities of all kinds. These scholars contend that as such, mass media no longer function to naturalize, and thus reinforce such inequities, and consumerism no longer serves to perpetuate them. Triece argues that her examples show that this argument is faulty, and that scholars should continue to take a traditional materialist view in all studies of mass media, consumerism, and popular protest.